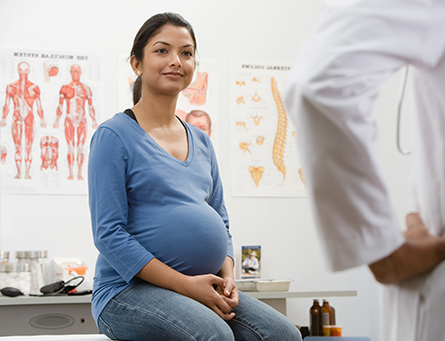 A High-Quality Pregnancy Care Clinic Near You
Pregnancy and childbirth are not only the beginning of a new stage in a woman's life but also one of the most memorable events of her life. At North Atlanta Women's Care, we totally understand this and have a team of specialized doctors and experienced staff to provide you the best possible pregnancy care and delivery.
Our obstetricians and gynecologists will be with you every step of your pregnancy right from checking your baby's first heartbeat to delivering your baby. With our comprehensive care and state-of-the-art equipment, we will ensure you have a safe and healthy delivery. We have been offering high-quality and affordable pregnancy care and delivery services to women in Suwanee/Johns Creek, as well as surrounding locations, including Cumming, Alpharetta, and Lawrenceville, GA.
Pregnancy – How Can You Know for Sure?
A few early signs of pregnancy include but are not limited to: a missed period, mood swings, bloating, and constipation. However, not all women experience the same early signs. At North Atlanta Women's Care, we will review your early signs and perform a pregnancy test to confirm whether you are pregnant.
We will provide you with advice on how to manage your symptoms and health during pregnancy. We are committed to providing extraordinary care to mothers and will be with you through the entire nine months and more.
Common early signs of pregnancy may include:
First amenorrhea
Fatigue
Nausea or vomiting
Breast tenderness and increased fullness
Schedule an appointment with our pregnancy doctor near you as soon as you suspect that you are pregnant.
What Are Prenatal Visits and Why Is It Important?
Whether you are a first-time mom or had children before, prenatal care is the key to a healthy pregnancy. Because pregnancy is a time of great change for you and your baby, scheduling a prenatal visit with your obstetrician is important to monitor the health of you and your baby to prevent complications in your pregnancy.
During your prenatal visits, we will review your medical history and monitor your health and the baby's development. This may include:
Checking your heart rate, weight, and blood pressure
Ultrasounds as required
Pap smears as required
Routine bloodwork
Performing genetic screening tests
Determining your due date
Each prenatal visit at our care center is vital. We use the information gained from these tests to check for any signs of abnormality and make sure your pregnancy has no complications. The average patient will have around 12 visits, but every pregnancy is unique. Our team is committed to providing the best care possible.
Looking for the best prenatal clinic near you? Schedule an appointment with us and receive the best prenatal care.
Why Choose North Atlanta Women's Care
At North Atlanta Women's Care, we are committed to providing the highest possible pregnancy care and delivery. We follow a customized approach that is friendly, compassionate, and provides the care you deserve. With our extensive team of specialized practitioners and state-of-the-art technology, we ensure quality care.
You can rely on us for our:
Experience
We have a highly qualified and experienced team of all-women doctors and staff who specialize in pregnancy care and delivery. They will make your every visit as comfortable as possible by carefully listening to your concerns and providing high-quality care.
Expertise
Our obstetricians and gynecologists are knowledgeable in providing world class pregnancy care. From routine deliveries to complicated pregnancies, our team will make every possible effort to ensure the care that the mother and child require before, during, and after delivery.
Personalized Care
We understand that all women have different pregnancy journeys depending on their health condition and situation, so we personalize the treatment plan and care accordingly.
Collaboration with Hospitals
We are affiliated with the Emory Johns Creek Hospital and for our deliveries and to improve patient experience, reduce medical complications, lower healthcare costs, and deliver better patient outcomes.