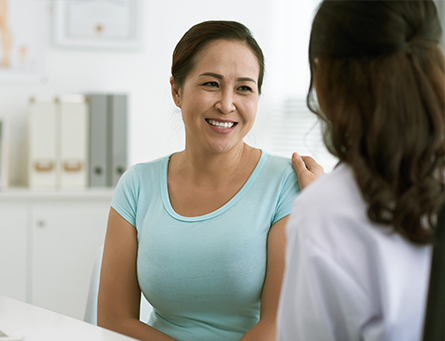 Learning that you need surgery can be stressful, as you might have so many questions concerning recovery time, complications, pain, cross-infections, etc. However, at North Atlanta Women's Care, we offer minimally invasive procedures to make your surgery a worry-free and painless experience. Minimally invasive surgery is an excellent approach for the diagnosis and treatment of a wide range of conditions that previously required open surgery.
Our providers are highly skilled and trained to provide the most advanced minimally invasive surgery with the best results possible. We have been offering sophisticated treatment and top-class care to women in Suwanee/Johns Creek, Alpharetta, Lawrenceville, and Cumming, GA. We stay updated with latest surgical advancements and techniques, promising the most effective minimally invasive procedures to our patients.
What Conditions Can Be Treated with Minimally Invasive Surgery?
Minimally invasive surgery uses advanced techniques that require smaller incisions, ensuring less pain and discomfort. It is especially beneficial to elderly patients or those with chronic medical conditions, as it involves less complication and pain.
At North Atlanta Women's Care, we perform minimally invasive procedures for:
Colposcopy
Endometrial biopsy
Types of Minimally Invasive Surgery Performed at North Atlanta Women's Care
Colposcopy
Colposcopy is a procedure to examine the cervix and vagina. It uses an instrument called a colposcope that features a light and magnifying lens. Colposcopy magnifies the usual view, allowing your healthcare provider to see the vaginal walls and cervical tissues clearly and find problems or abnormalities that cannot be seen by the naked eye.
Why I Might Need a Colposcopy?
A colposcopy is performed if your Pap test or pelvic exam shows abnormal results. It allows your provider to clearly see the changes in the vaginal or cervical tissues, including abnormal tissue structure, blood vessels, patterns, and colors.
Colposcopy may be performed to diagnose and treat:
Genital warts
Bleeding
Polyps (noncancerous growth)
Cervicitis (an inflamed cervix)
Diethylstilbestrol (DES) exposure in women whose mothers took DES during pregnancy, as it increases the risk for cancer of the reproductive system
To assess a treatment's result
Endometrial Biopsy
It involves removing a small tissue sample from your uterine lining (endometrium) for laboratory analysis. The sample is then viewed under a microscope to detect abnormal cells or problems such as uterine infections and check the effects of hormones on the endometrium.
When is an Endometrial Biopsy Recommended?
Endometrial biopsy is recommended if you have:
Absence of uterine bleeding
Abnormal menstrual bleeding
Bleeding after menopause
Contact us today if you are looking for minimally invasive surgery in Suwanee/Johns Creek, GA, to treat your medical conditions. We are committed to providing quality care and treatment in a compassionate environment.